Camfil provides filters that can remove molecules, gases and vapors from t​he air through molecular filtration.
There are 156 million registered chemicals in the world and increasing at a rate of 15,000 new chemicals per day. Harmful gases and vapors produced by these chemicals cannot be controlled by even the most efficient particulate air filters because molecular pollutants are simply too small.
Many molecules are known to be harmful to humans, the environment, manufacturing processes (microelectronics, pulp and paper, oil refining, etc.) and more sensitive items like artifacts in museums and art galleries. These airborne molecules impact businesses in several ways ranging from nuisance odors to corrosion of electronic equipment, and can even be responsible for a wide range of health issues, including organ failure and death.
Molecular filters from Camfil can help control these problems. Ranging from very light to very heavy duty, Camfil has five molecular air filtration product families: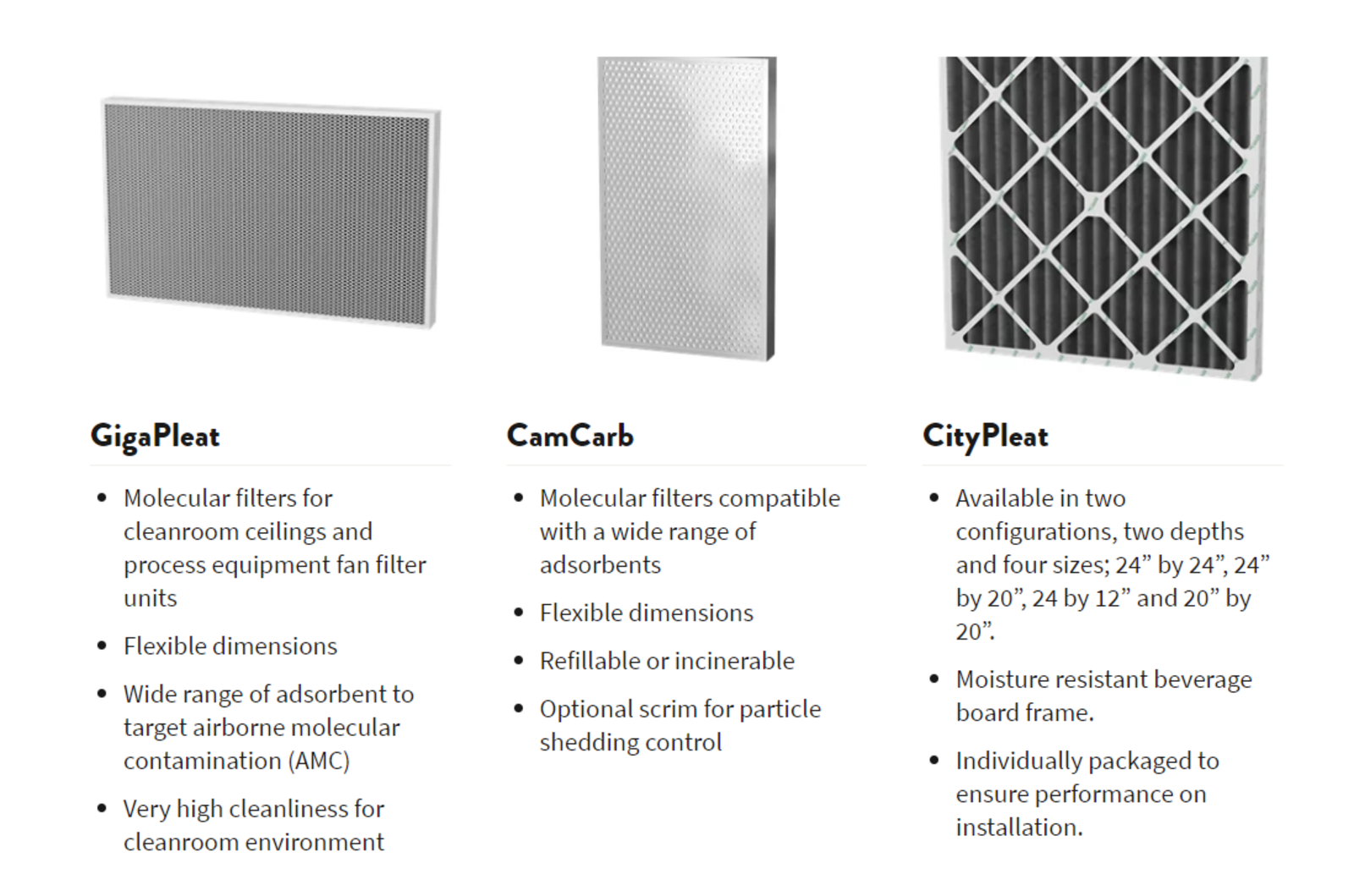 City Family products are contemporary solutions that combine molecular and particulate filtration to indoor air quality (IAQ) in schools, offices, and other public buildings.
CamCarb products have the widest range of capabilities to address specific problems in facilities such as medical buildings, airports, museums and light process industries.
GigaPleat products are designed to achieve extremely high removal efficiencies where even the smallest concentrations can have a significant impact on a process; primarily microelectronic cleanrooms.
ProCarb products are heavy industrial solutions designed to protect people, the environment, and equipment from toxic and/or corrosive gases at the highest removal efficiencies for the petrochemical, pulp & paper, and wastewater treatment industries.
Containment products provide the highest level of toxic mitigation from radioactive and/or lethal gases for nuclear power or military operations.
Customer support and laboratory services are also essential to ensure that the best product is selected for your application. Camfil molecular services include:
Air sampling by taking outdoor and indoor air quality measurements to define a customer's molecular contaminants
Lifetime and efficiency simulations of molecular filters generated from an industry leading, proprietary software developed from over 50 years of real-world data and 20 years of in-house performance testing results based on actual operating conditions in accordance with ISO 10121
ASHRAE 145 and ISO 10121 performance of gas phase air cleaning media and devices to measure real-world performance
Media analysis to determine the remaining life of installed molecular filters
https://www.camfil.com/en-us/products/molecular-filters
About Camfil
At Camfil, we work by the belief that breathing clean air should be a human right. Since 1963, our commitment, investment, and our people have allowed us to stand fully behind our molecular filtration solutions and instill customer confidence.
If you'd like to know how molecular filtration can benefit your unique situation, contact a Camfil representative today.
Media Contact:
Lynne Laake
Camfil USA Air Filters
T: 888.599.6620
E: Lynne.Laake@camfil.com
F: Friend  Camfil USA on Facebook
T: Follow Camfil USA on Twitter 
Y: Watch Camfil Videos on YouTube